4 tags
Patient Offence, Passive Offence
Passive Offence Normally associated with the Power Jam, the passive offence sees the team with the jammer on track remaining as stationary as possible, while the penalty killing team try to hold the jammer as long as possible before either they run out of engagement zone or there is a no pack. Patient Offence See Passive Offence
2 tags
Perma-Goat
Thanks to http://www.derbylife.com/articles/2013/04/permagoat for giving me this new one to use: Perma-Goat The blocker that seems to be always the one behind the wall of opposing blockers controlling pack speed. See Goat
Sur5al
Sur5al sur5al is a form of roller derby played to WFTDA rules but with some notable exceptions. It is played by many teams at the same time; teams consist of only 5 players; teams face off against each other for 1 jam.  A team picks up 3 points for a win, 1 for a drawn jam, but their are also points awarded for gaining lead jammer in that jam. teams play each other a number of times, and at...
3 tags
Minjury
A roller derby related injury to a female skater's lady-parts. - see Skate Rape Submitted by Geek Le Chic 
2 tags
The Dictionary...Finally Updated!
Ok so this took a lot longer than planned but I finally got round to putting all of the defined terms onto the dictionary page for the first time since I initially started it. You can find all the defined terms here: http://rollerderbydictionary.tumblr.com/Dictionary As always, if you spot a definition that could be improved please let me know. I am also going to start looking for appropriate...
5 tags
Leopards, Runts and Queens of the Track
Some new Entries to the Dictionary.  Keep sending your suggestions over to keep the RDD minions busy. 9 Month Injury Pregnancy… Leopard recurring theme amongst UK Refs.  The use of Leopards is not specifically outlawed in the WFTDA or MRDA rulesets and so it was posed by Southern Discomforts Sutton Impact that he would bring a leopard to MERDC to help him jam…  Now any serious rules...
Derby Slang
bkspidey: Is their a blog dedicated to explaining derby slang? If not, someone should start one. Yes,  Yes there is…
7 tags
Bus Queues, Cake Sales and School Chair Skittles
Today I am going to look at some interesting and amusing terminology surrounding the place every skater hates to spend time, the Penalty Box. Bus Queue A penalty box with a number of skaters sitting and standing at the same time, resembling a group of potential passengers awaiting the arrival of the Number 32. Cake Sale A period of increased activity at the Sin Bin.  When lots of players are...
3 tags
Update to "Jumping the Apex"
Mystery Referee said 'As a ref, I feel the clarification "and doesn't hit anyone on the other team." should be added.  Because if she does, then we must sacrifice her to the box.  At least by the currently-in-use WFTDA rules.' Our striped minions here have checked the WFTDA rulebook and decided that the clarification doesn't need to specify "other...
6 tags
Hello to All the New People and Some Suggestions
So, I decided to start inviting people via the good old medium of facebook and what do you know, followers! Straight away I had some suggestions for entries to the dictionary from the lovely Freddie Fraggles who put these beauties forward for entry. Rollin' News UK & Ireland roller derby news website, most notably featuring scores from every bout every weekend. Team Zebra Fan Club...
New and Updated Entries
Whoops!  So I thought I had posted these ages ago but have just found the draft of it in the hands of a minion.  The said minion has been locked into a referee kit bag for a week as a punishment. I have to throw a massive shout out to Bob Noxious for a lot of the following entries and clarifications. If you have never heard of Bob Noxious, he is one of the founders of the AFTDA and a much...
The First Men's European Roller Derby Championship...
So this weekend saw history made as the 1st Men's European Roller Derby Championship was held in Birmingham, England.  The Roller Derby Dictionary had a team of researchers there eagerly writing down new expressions as they were coined and even listened in as El Toupee, Russell Banned, Bulldog and Sven WillIBeFamous discussed the finer points of Unicornism… Here is the first of the...
Carpet Munch
Taking a spill while in gear but not on the track. Example: "She skated through the living room but had a carpet munch when the carpet tripper her up." Submitted by Tumbl Weed
Zebra Herd, Assemble!: A Reminder to All Skaters: →
fuckyeahrollerderbyzebra: When a referee makes a call. We ARE NOT: Commenting on how well/poorly you skate. Judging intent on your actions. Saying you do things wrong. Saying you are wrong. Saying you're a bad person. Wishing harm on you or your family. Commenting on how well/poorly you executed whatever action. However, we ARE:
Bleacher Creatures - The Credit for Submission
Handsome Joe Hanson with the Crime City Rollers of Malmö,Sweden got in touch to tell me that it was himself that submitted the "Bleacher Creatures" entry. He tells me that he used this while in Glasgow which can only lead me to believe that he has met Glasgows very own Helliverance. Star of "Shit Roller Derby Announcers Say" ...
New Entries!!!
Firstly let me apologise for not posting any entries in AAAAAGES!.  I won't let it happen again. Secondly let me apologise to the 2 people that submitted entries for "Bleacher Creatures" and "Soul Crush".  I wanted to edit these to attribute them to you but once I clicked to publish them it stopped telling me who you were…  And Now onto some new entries! ...
bleacher creatures
The wonderful fans! A term particularly useful on a Halloween Bout  as is "ghost points".I did not make this up but read it on a forum somewhere . Sorry I lost the name of the person that contributed this.  If you're out there let me know who you are…
Soul Crush
SOUL CRUSH. The Soul Crush refers to a move where a blocker knocks an opposing jammer or blocker (depending on the situation) out of bounds and then the blocker skates backwards on the track forcing the opposing player to either skate back to re-enter behind him or take the track cut penalty.  When it is the opposing jammer that is knocked out of play, a smart pack will all start to skate...
New Year - New Entries!
Happy new year from me, Professor Dick Shonary and my team of troglodyte derby dictionary archivists. The new year sees some more gems unearthed to be added to the dictionary. 2 More Jams There is never a last jam in a scrimmage.  There is always one more.  This comes from a superstition that if there is ever a last jam someone will be injured. "It's 21:29 and we have to pack up at...
New Entries 29 December 2011
Possibly the last update of 2011.  A few entries garnered from afterparty discussions with players, refs and announcers. Also from the smell emanating from the skate bag in the corner of my house… Seal Clubbing A shoulder check from behind to the outside of the shoulder made with the upper arm/shoulder of the initiator. Normally a movement with only the upper body designed to throw a hit...
New Entries 15 December 2011
Just trying to fill in a lot of the definitions I've been sitting on for a while and hopefully everything from now will be suggested by you lovely people. If you are ever at an afterparty with me and I suddenly start pinning you down for a precise definition of something it will be as research for this. Anyway, onto the entries… Fresh Meat A new skater that has not completed minimum...
Calling The Wild: An Announcer's Perspective -... →
fuckyeahrollergirls: If you are a skater, an NSO, a ref, or even tangentially involved with a Roller Derby league, here are a few tips on how to help your league's announcer improve and create a more enriching experience for your audience.  This is a nice little guide to what it is to be an announcer.
Newcastle Roller Girls - While Zebras Watched Our... →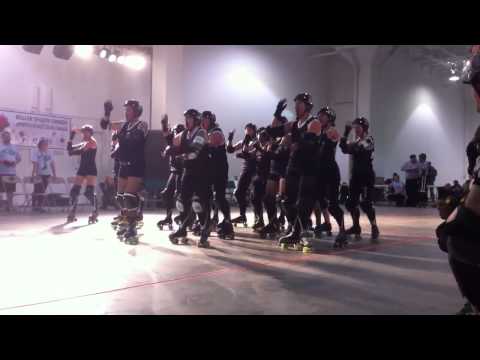 Last Ones from The World Cup
Just a few last entries that I picked up over the weekend. Nickel and Diming The style of play of picking up 4 or 5 points and then calling the jam off. Sit Block A booty block where the blocker in front sits back into the lap of the player(normally a jammer) behind them in order to slow them down and stop them getting past. Off To The Races Expression normally employed when a jammer or jammers...
World Cup Entry pt3
A few more which have been chucked around today Eat The Baby When the pack catches up with and swallows the jammer after she has left the engagement zone. Rugby Start A start where there is a rugby style scrum around the pivot line with the jammers trying to find a way through the tussle.
World Cup Entry pt 2
Another one just coined during the England v France bout. Firemen Line A line of Blockers skating one behind the other and all holding onto the blocker in front resembling a line of firemen holding a hose. Stay Tuned for more!
World Cup Entry!!!
Been hearing a lot of the announcers at the B&T Roller Derby World cup using this one so it needs to be included: Nickel A grand slam of 5 points. "And Team Scotlands Clinically Wasted picks up another nickel" See Jammer Lap Point, Grand Slam More to come as the world cup heats up.
New Entries - 24/Nov/2011
Today's entries are all website/meme related. In the past 6 months there have been a number of derby based memes springing up and as they express a big part of derby culture then I felt it necessary to include them.     Derbspiration website/meme. Inspirational photos for the roller derby community. http://derbspiration.tumblr.com/ Fresh Meat Otter website/meme. Slogans and humour about fresh meat...
New Entries 22/Nov/2011
Some more new entries today.  Still filling up the dictionary with the most common terms. Remember to share this around and get submitting new terms or updated definitions. Big 5 The "Big 5" tournaments are the four Regional Playoff Tournaments and the WFTDA Championship tournament held each year that determine the top teams of the WFTDA. Big 5 Setup This is the track layout used in...
New Entries 21/Nov/2011
Most of the bulk updating is done now so I can concentrate on adding some new definitions in nice manageable chunks. I'm also now really intrigued as to where the term "Goat" actually comes from.  Some research is much needed I think. Here are todays Entries: 4th Minor If a skater picks up 4 minor penalties they are sent to the penalty box for 1 minute. Cake Sale A period...
New Entries 17/Nov/2011
Adding more of the standard terms from the WFTDA rules and a few cheeky slang entries today. Remember you can submit your own Roller Derby Dictionary Entries(or suggest a change to an existing entry) using the Submit Button on the right. Assist An engagement with a team mate which helps them.  This may be a whip or a push. Axle Skate Part. The axle holds the bearing and wheel. Backblock Any...
New Entries - 15/Nov/2011
I'm going to be filling in some of the blanks in the dictionary with the fundamentals.  This will mean pulling in some of the standard definitions from the WFTDA rulebook for the official term before the euphamisms start creeping in. Panty  - See Helmet Cover Helmet Cover – A stretchy fabric cover to be worn over the helmet by the Jammer and Pivot.  The Jammers Helmet Cover has a Star on...
The-Sore-Ass Project
the·sau·rus [thi-sawr-uhs] A dictionary of synonymsand antonyms. the sore ass [thi-sawr-as] What you get when you land on your booty.   The whole point of this project is to collate together the various terminology and slang that is creeping into Roller Derby today to help the uninitiated make sense of our amazing sport. Make suggestions for entries  or amendments to entries and I will...